Nancy Arruda – 10/06/10 Astrological Influences till end of 2010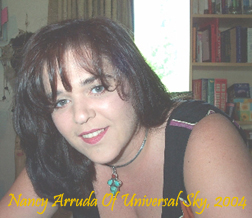 Listen to this informative show to understand how the stars will impact us for 2011!
Nancy Arruda has lived a life filled with beauty. As a professional beautician and licensed hairstylist, Nancy has experienced full understanding of exterior beauty. Since 1995; Nancy shifted her direction of beauty into her internal reality and understood that beauty within must be balanced with one's external reality. She discovered that the internal nature of an individual is just as important as the way one presents themselves externally. Through her journey of understanding one's internal reality, she has learned the art of Astrology and Tarot; tools that allow one to access the gateways of the unconscious and the potentials of an individual. Nancy found a love of internal beauty and dove into the esoteric understanding of the Soul. For more information about Nancy and her service offerings please visit her website www.universalsky.com or call her at (905) 717-1452.