Linda Jean McNabb 04/03/10 Author of One Again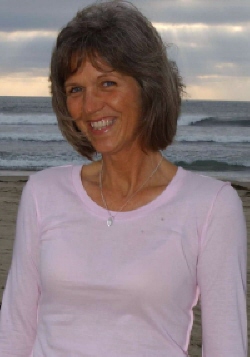 Linda Jean McNabb spent nearly twenty years in the corporate business world first as a claim adjuster and then as a sales representative for several large companies offering various products and services. After leaving the corporate world in order to follow her heart and true gifts Linda formed and operated her own organizing business for over a dozen years in North Carolina. At the age of 44 she underwent a spiritual awakening and was guided to move to southern California.
After living in California and being drawn to a healthier lifestyle she received training as a Raw Food Chef. Through that network she became employed by a world-renown hospital in Rosarito, Mexico, where she taught several nutrition and food preparation classes each week. Eventually, through her continued spiritual awakening she was guided to write a book of the story of being shattered by a childhood gang-rape followed by decades of self-destruction, and then the forgiveness that finally ended her suffering. This led to her becoming personal assistant to acclaimed teacher of 'A Course In Miracles," Gary R. Renard, bestselling author of 'The Disappearance of the Universe,' and Your Immortal Reality,' whose teachings about a different kind of forgiveness inpired her share her story with the world.
Currently Linda's main focus is to work toward and realize her vision of a world where the rape of a child is no more. This is her heart's song and what she believes she was born to do. She also travels the counrty to present workshops on the Wisdom of True Forgiveness. Her book, 'One Again: A True Story of a Different Kind of Forgiveness,' published by Hampton Roads Publishing Company is now available through this website and retail bookstores.
Linda is now living a life that for most of her years was an impossible dream and one that she'd given up on long ago, amidst the darkness of past traumas. Through her determination to simply be happy she finally uncovered her true self and out of that a life of peace, joy,and fulfillment unfolded. If she can do it, so can others.