Growing Up Through our Fears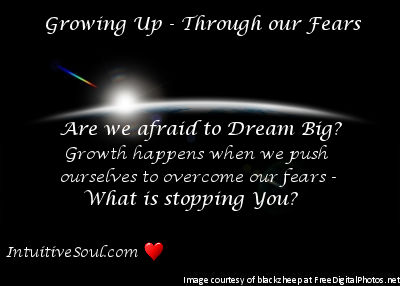 As most of you know I went to an Immersive with Tom Campbell last month and then spent my birthday in Paris. I knew this event would change my life and it has. I didn't know what to expect – even after interviewing Tom for the past decade and sharing his practical knowledge on how to Grow-up and Surrender our fears – so I was seemingly not prepared for 5 days in a castle under his tutelage. Tom is unsuspecting and truly walks his talk. His unconditional compassion and love allowed us all to feel safe while exploring what he calls the Larger Consciousness System. Those of us without a physics background who see things from a spiritual perspective would probably refer to this as connecting in with the Akashic records or our Sacred Space with our Higher Self for guidance. We spent hours meditating each day and we could do it in the luxury of our rooms – since Donna and Keith (his incredible event coordinators) rented out an entire castle – we didn't have to worry about having to explain ourselves. We also had exercises instead of chanting the "Om" mantra for an hour each time. We used binaural beats to help us focus on our exercises – that ranged from communication, to past lives and future probabilities, to healing and remote viewing.
The benefits of a large group – of like-Hearted people – collecting together for days and sharing our experiences – change us.
We never fully comprehend the impact of when we immerse ourselves in a group of like-minded and like-hearted people while also using meditation to Grow our Consciousness. The benefits of a large group collecting together for days and sharing our experiences change us. This is especially true for me since I have for several years been on a healing journey in seclusion – needing to feel safe and protected while I worked through some challenging times. I've needed to hibernate and my journey has gone through many cycles during this time. I would come out to test the waters only to fall back when my sensitivities would become overwhelmed again. I created a beautiful oasis where I could feel safe while also healing and expanding my business. It was a win-win for me. I also knew that this trip would change that for me. And it has in many ways.
I discovered that while I'm in my element – even in a group – I laugh more (which isn't such a stretch) but I also engage more with others to invoke laughter – however I often use sarcasm or dry wit to do it. I think with hibernating for so long I forgot what I was like in a group environment. It was something I needed to remember! Being with like-hearted people helps you feel safe to BE yourself.
I received a lot of incredible guidance from unexpected sources – like when I wanted to communicate with my shy kitten who was having some challenges while I was away – Angel was staying next door with her sister but wasn't eating a lot in the first few days. When I used our communication exercise to connect with my girl – I was greeted by my sweet boy Jasper who explained why he had to leave so suddenly (2 years earlier) and why having a Persian, Angel, was to help me take better care of myself. She is very high maintenance and if gone without care for a couple of days her fur will get all bunched up in mats – she was to inspire me to take better of care for myself.
I was shown in meditation information on my next book that I am to write this year; a book all about our fears – a common theme with my writings especially with Tom! This will require me to focus my energy on writing more – something I haven't been doing enough of. Writing my Blog every month requires focus that I don't always adhere to. Sometimes it just feels like a chore. Don't get me wrong – I love writing: it helps me Grow and absorb my thoughts – but I require a deadline to motivate me usually. So now I guess I will have to create some deadlines to motivate me to write chapters instead of Blogs – however I have a feeling they may overlap a bit. At least they will guide me in each chapter.
I can't say enough about immersing yourself completely in a retreat for 5 days (especially a castle in northern England) – meeting like-hearted people who share experiences and build connections. It is incredibly rewarding. I had met several people through Tom prior to attending this Immersive but a group of almost 100 people expands your growth exponentially. And it was great to meet people from all over the world – coming together with a common goal of Growing.
However my growing didn't stop there – Paris was Magical. It also changed my solar return chart in surprising ways. I had always read that if you want to shift up your world it is always good to be somewhere else for your birthday. Paris provided me with some big changes – where my rising sign here in Toronto is Cancer – for this year it is Capricorn. Those two signs are very different. Cancer as a rising sign explains why I like to hibernate and make my home a safe place. Capricorn on the other hand will shift my focus to my career and creating more security financially. It will help me focus on my writing – I hope.
What dreams are you waiting for? Growth happens when we push ourselves to overcome our fears.
What is Stopping YOU?
Paris was indeed a Magical place filled with beautiful architecture and a loving energy. I met new and old acquaintances and a dear friend on my birthday – it was very special! The whole trip got me out of my comfort zone and reminded me about my dreams. We all have dreams that we put on hold because we are driven to do 'other' things – to try to make money, to try to create healthy relationships, to try and be a good and conscientious person – but dreaming our heartfelt lives into existence, taking our dreams out of the 'holding' zone, is this not our real work – how to really live a life worth living? Are we perhaps afraid to Dream the new into existence? What dreams are you waiting for? Growth happens when we push ourselves to overcome our fears. So is it fear that holds us back from growing, from changing? Are there fears we aren't facing? Could we actually be afraid of how our dreams could change our lives and help us grow? So what about facing our fears of change, of growth, and surrendering to who we are so that we can BE all that we can BE? What is stopping us? Let's grow.